Media Coverage
Below are some stories and reports from the media or special guests who have been out riding in Queenstown with Around The Basin.
Another lovely write up! Thank you to Signature Luxury Travel and Style (see page 88 – 93).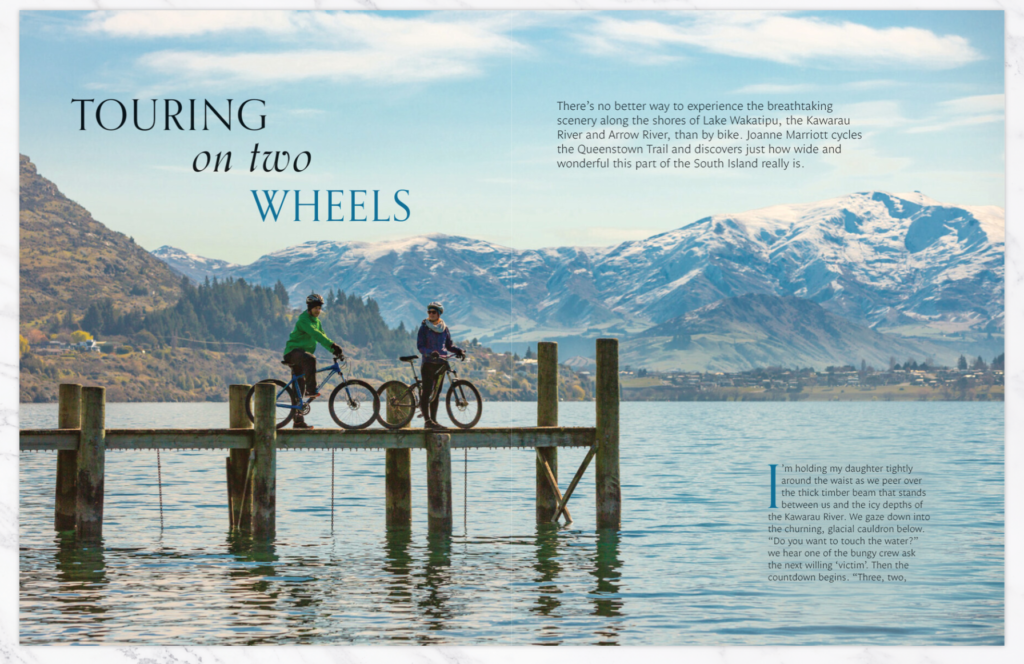 We are stoked to feature in the latest Qantas Magazine Travel Insider (see page 29).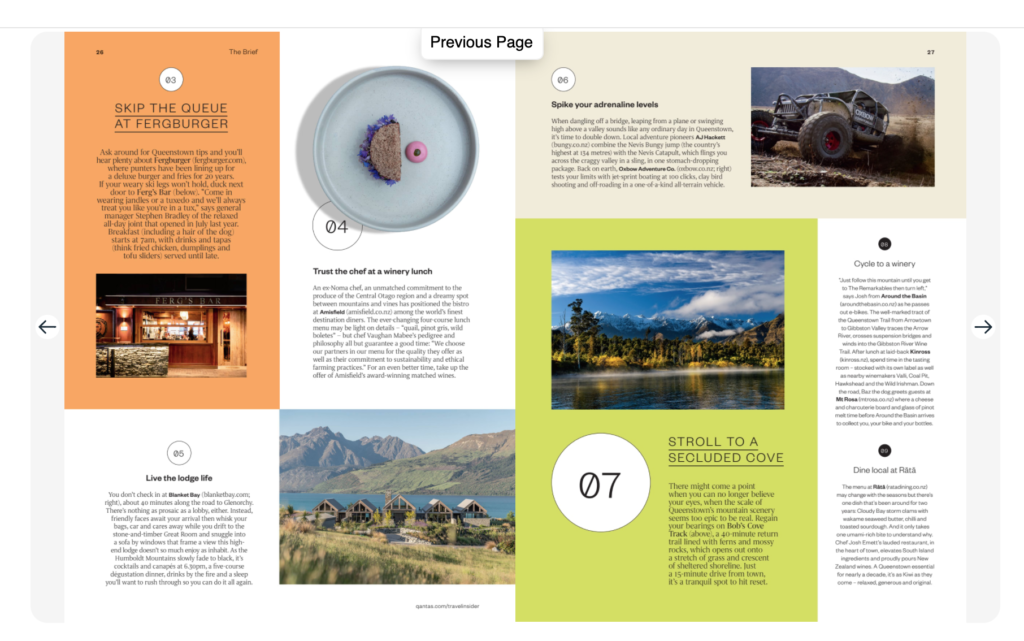 We are stoked to have a solid mention in this NZ Herald Article. See the excerpt here:
"The easiest way to enjoy a breezy escapade is to book with a tour operator who will take care of drop-offs and pick-ups. They will also gear you up with bikes, e-bikes, and helmets, plus give you a brief with all the wineries and tips for the road.
Around the Basin offers a variety of packages and hire options to suit both holidaymakers and locals. Friendly and packed with expertise, the team will ensure you have a great time. The best part? They even pick up the wines you purchase along the way, just so you don't have to carry them on-the-go."
Please see the full article linked here.
Or to see our winery ride options click here.
Trails Trust Calls For Support
An exciting new Queenstown Trail expansion project is in the pipeline. Please show your support! All that's needed is consent to get this tract to go ahead. The new trail will link Arrowtown to Arthurs Point and Tuckers Beach.
To enter a submission and hear more from the Queenstown Trails Trust, follow this link.
To read more on this you can see what the ODT has reported here.
One mention of Queenstown and you'll likely think of bungy jumping, snow sports and picturesque landscapes in every possible direction. There's so much more to New Zealand's adventure capital if you're not in the market for an obvious head-first adrenaline rush and queuing all day for an Instagram-famous burger. Think: backcountry cycle trails, irresistible tacos, bustling weekend markets and endless volumes of wine. This is your less obvious guide to Queenstown… READ MORE
Around the Basin is proud to have a strong affiliation with Ziptrek Ecotours.
We offer zip and ride packages which allow visitors to experience two of Queenstown's most sustainable tourism activities. Fly through the trees on the Ziptrek and zoom along the trails from Arrowtown through to the Gibbston Wine Valley on your hired mountain bike, what a way to spend a day.
Check out this great article about Ziptrek and their sustainable approach to tourism in Queenstown – Sustainability at heart for high flyers.
Lindsay Buckley
A blog about the Full Day Bike the Wineries trip with Around the Basin
John
From bike trails to wine trails and everything in between… meet the new 110+ kilometres long Queenstown Bike Trail.
The trail, one of the great rides of the New Zealand Cycleway project, was officially opened by New Zealand Prime Minister, John Key on the 18th October 2012.
The new trail is made up of existing and new trails looping around the Queenstown region. Highlights of the trail include wineries and cafes, lakeside trails, riverside trails, swing bridges and historic bridges, historic buildings, mountain views and picnic spots all with Queenstown and Arrowtown as the hub.
We tagged along with a one of the local bike tour operators on a semi-guided day trip to experience some of the best the new trail has to offer.