Beach To Bay

  An easy Queenstown bike ride with options to extend

Easy lakeside mountain biking in Queenstown.
Sleep in and enjoy the later start times of 11.30 am or 3 pm.

Old Shotover Bridge to Queenstown Bay, cafes and breweries along the way.
15 km of scenic easy mountain biking, with options to extend.
Rivers, lakes and amazing mountain views.
Return your bike to our shop by 5pm and walk away… too easy!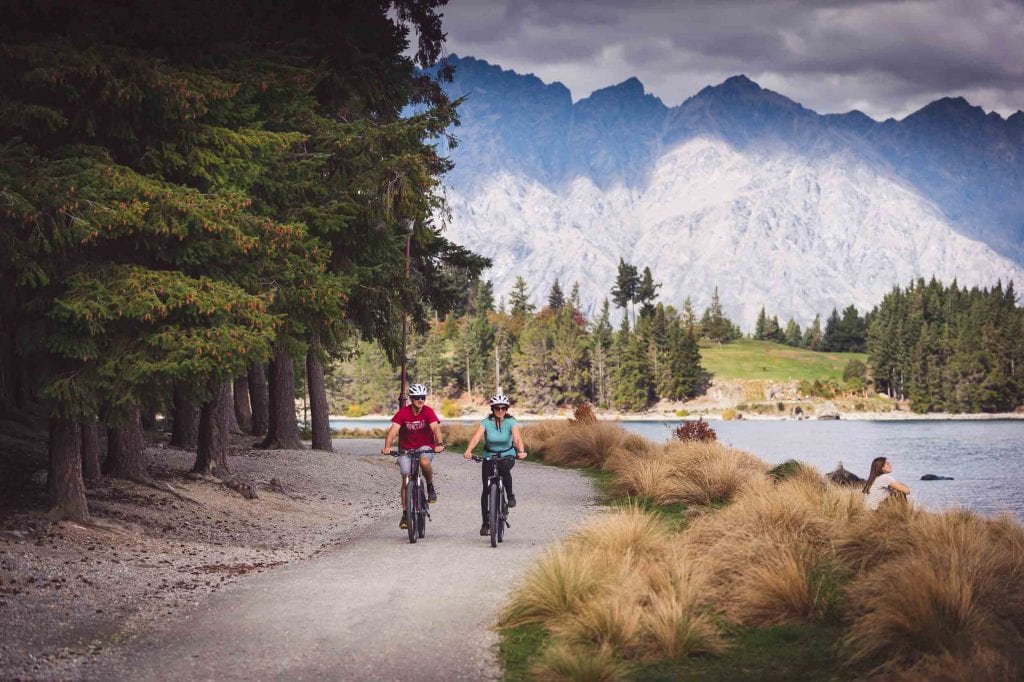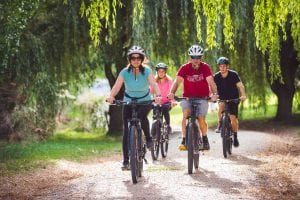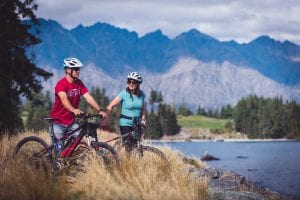 Ride Information
This mountain bike ride begins with a relaxed mid morning or mid afternoon pick up from our shop at 9 Duke Street in central Queenstown, followed by a scenic transfer to The Old Shotover Bridge.
After bike fitting, and helpful trail information from your knowledgeable driver, you're free to set off riding at your leisure using our informative trail map. This 15km section of trail is exceptionally scenic, and has the added bonus of passing the famous Boat Shed Cafe, The Frankton Arm Tavern, Altitude Brewery and the Bathhouse Cafe on the edge of Queenstown. If you're a keen rider, there are numerous opportunities to extend you ride. Either head towards Lake Hayes, or shoot out along the Kelvin Peninsula. Add as many k's as you wish, just be back at our shop by 5pm.
Guarantee the good times. Upgrade to an electric bike it's only $50 more…
Interactive Trail Map
Explore your Beach to Bay Queenstown ride in more detail. Zoom in and out, and even change your aspect as you interact.
Elevation and Distance 
Total Distance: 15.49km | Total Elevation Gain: 126m | Total Elevation Loss: 138m.
Want to download the GPX file for this track? Click here.
Guarantee the good times. Upgrade to an electric bike it's only $50 more…
Not the ride for you? Check out our other ride options.
11:30 AM or 3:00 PM: Transportation
Shuttle Delivery to The Old Shotover Bridge
Sit back and enjoy the 15 min drive.
Chat to your local driver.
11.45 AM – 10.55 AM or 3.15 PM - 3.25 PM: Briefing
Upon arrival at The Old Shotover Bridge your tour guide will brief you on bike safety and trail navigation before you depart.
11.55 AM – approximately 2.00 PM or 3.25 PM - approximately 6.00pm: Ride The Trail
Set off on your bike and explore the beautiful Queenstown Trail
Take in the beautiful vistas of the Remarkables and Coronet Peak.
Follow the Shotover River downstream to where it connects with the Kawarau River.
Follow the Kawarau River until it connects with Lake Wakatipu.
Enjoy riding the lake edge as you make your way into Queenstown.
Stop at a cafe and grab a feed or a coffee.
By 5.00 PM or 7.00 PM: Arrive In Queenstown
By 7.00 PM at the very latest reach Queenstown, where you will return your bike to Around The Basin. While most people will only take 1.5-2 hours to ride this section of trail we allow you to maximise the day
DEPARTURE/RETURN LOCATION
9 Duke Street, Central Queenstown
DEPARTURE TIME
Departure at 11:30 AM or 3 PM
RETURN TIME
 By 5:00 PM or 7 PM
WEAR
Comfortable athletic clothing, shoes, jacket and gloves.
INCLUDED

| | |
| --- | --- |
| Helmet | Quality Mountain Bike |
| Trail Map | Shuttle Service |

NOT INCLUDED

A Guide Riding The Trail With You