A Day On The Dunstan Trail
Epic Biking in Central Otago

| | | | |
| --- | --- | --- | --- |
| | | | |
| Return Shuttles | Full Day Ride | ~ 38 km | Hilly Terrain |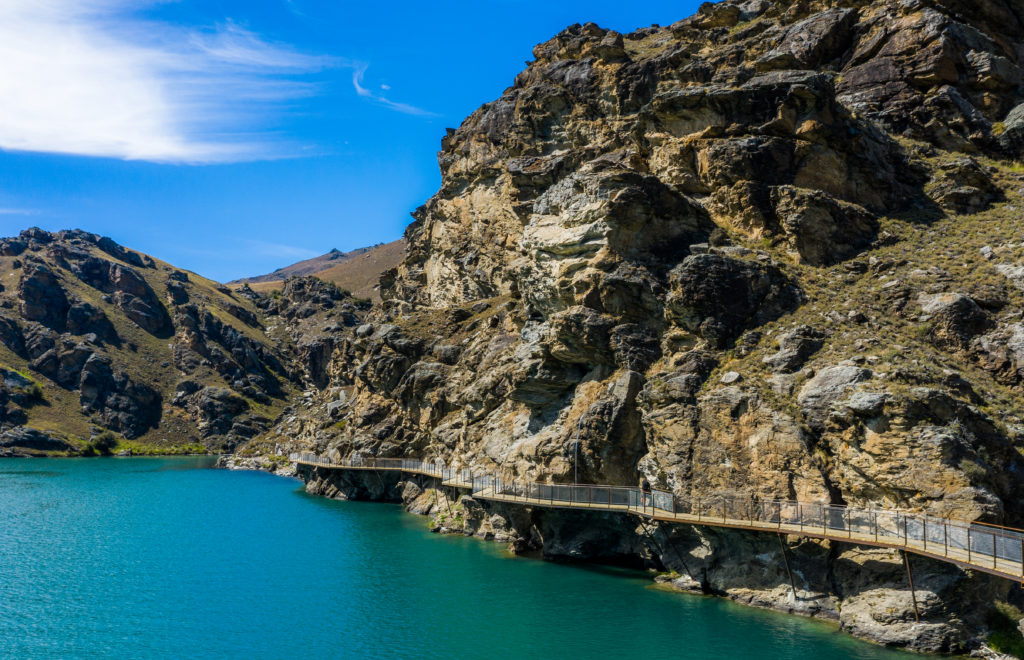 Ride Information
Let us sort a Day on the Dunstan Trail for your group. This full day ride packages starts with a shuttle departing from our shop – 9 Duke St, Queenstown – at 8:30 am. We'll drive you through to the Clyde end of the spectacular Lake Dunstan Trail. There's the option to stop for coffee in historic Clyde, before we deliver you to the head of the trail.
We will get you set up with everything you'll need, including the bikes/E-bikes, helmets, and a trail map. You'll first ride passed the Clyde Dam, before embarking on an exceptionally well-built bike trail beside Lake Dunstan. The trail is a masterpiece of engineering, including a purpose-built suspension bridge and numerous "clip-on" cantilevered platforms, which really add to the riding experience.
There are two significant climbs on the trail, the first near Halfway Hut and the second at the Cairnmuir ladder, with the highest point being a little over 300 m above sea level. You'll see classic Central Otago landscapes as you ride, and smell the wild thyme that grows in abundance in these parts.
The shuttle driver will be waiting for you just passed Cornish Point (~ 25 km from Clyde). From there you can either make your way to the Bannockburn Pub or continue a bit further onto Old Cromwell (+ 13 km from Cornish Point) for a well earned ice-cream or bite to eat.
The return shuttles departs at 3:15 pm and aims to arrive back in Queenstown at 4:30 pm.
Distances
Clyde – Bannockburn: 31.5 km (approx. ride time for strong rider is 3 – 4 hrs)
Clyde – Cromwell: 38.5 km (approx. ride time for strong rider is 3.5 – 4 hrs)
Most of this trail is graded as either 2 or 3. You can expect some narrow sections, steep gradients, unfenced drop-offs and tight corners; this is really best for those with riding experience. Follow this link for a more in-depth description of the trail.
Riding from Arrowtown To Queenstown or Queenstown To Jack's Point would be an ideal lead in to this ride, being of similar distance, but less difficulty.

Pricing
The prices below include bike or E-bike hire hire, return shuttle transport, and a driver to take care of logistics for you.
| | |
| --- | --- |
| Mountain Bike | $220* |
| Electric Mountain Bike | $270* |
* Prices are per person
As this trail is not part of our regular schedule on the Queenstown Trail, and a longer drive from Queenstown, we require a minimum of 8 riders to make this ride go-ahead.
Electric Bikes Are Highly Recommended!
We are yet to hear anyone say "I wish I never upgraded to an electric bike", but we have certainly heard the opposite! Guarantee the good times, keep your group together and have a fun day out there. E-bikes are a game changer and make this ride so much more fun!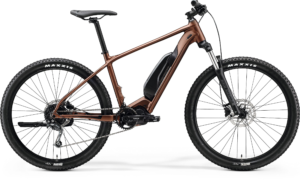 A Day On The Lake Dunstan Trail
8:30 am: Shuttle
Depart Queenstown
Sit back and enjoy the 1 hr and 15 min drive through the beautiful Central Otago countryside
Chat to your local driver and get to know more about your day and the local landmarks
9:30 am – 10:00 am: Coffee Stop
Upon arrival in Clyde you will have time to visit a cafe of your choice. This is a chance to grab last minute supplies and fuel up for the ride ahead.
Once you are ready to ride, the driver will brief you on bike safety, trail navigation, and how the rest of your day will work
10:00 am – 2:30 pm: Ride The Lake Dunstan Trail
Set off on your bike and explore the beautiful Lake Dunstan Trail!
Meet your driver 25 km into your ride (just passed Cornish Point). It is here that you can decide what you would like to do for the rest of the afternoon: more riding, or is it time for a well-earned refreshment?
2:30 pm - 3:15 pm: Wine or Beer Time
Enjoy a relaxed end to your riding adventure before your shuttle back to Queenstown.
3:15 pm: Return Shuttle - Back To Queenstown
The return shuttle will depart at 3:15 pm sharp.  There may be other groups joining you for this shuttle, so this is a fixed departure time.
---
WEAR
Comfortable athletic clothing, shoes, jacket, gloves, and a backpack.
INCLUDED

| | |
| --- | --- |
| Shuttle Driver | Mountain Bike or E-bike |
| Helmet | Trail Map |

NOT INCLUDED

A Guide Riding The Trail With You
Food and Drinks