The Dunstan Trail

Clyde to Cromwell, Queenstown Based, New Zealand.

Ride this stunning new trail.
Electric bikes are the recommended option and make this ride a breeze!
36+ km of gorgeous mountain biking.
Ride beside Lake Dunstan, over suspension bridges and enjoy the stunning scenery.
Finish in Bannockburn at the pub, or head to Old Cromwell and explore.

Let us sort your day on the Dunstan Trail. Departing from Queenstown at 8.30am, meet us at our shop (9 Duke Street) or be picked up en-route as we take you through to the stunning new Dunstan Trail. Enjoy a coffee stop in Historic Clyde, before we deliver you to the start of your ride. Bike past the Clyde Dam and check in once more with your support vehicle before you depart on the isolated 29km section of exceptionally well built trail that takes you beside Lake Dunstan and over amazing "clip on" bridges. Your driver will be waiting for you just past Cornish Point, and from here you can decide to either make your way to the Bannockburn Pub or visit a winery in Bannockburn (+ 7.3km from Cornish Point), or continue a bit further into Old Cromwell (+ 13.3km from Cornish Point).
Relax and unwind for an hour or so before we transfer you back to Queenstown (departing at 3.45pm and arriving back in Queenstown approximately 5.15pm).
Total distances:
Clyde – Bannockburn: 31.5 kms (approx. ride time for strong rider or E-biker is 3 – 4 hrs)
Clyde – Cromwell: 38.5 kms (approx. ride time for strong rider or E-biker is 3.5 – 4 hrs)
Most of this trail is graded as either 2 or 3. You can expect some narrow sections, steep gradients, unfenced drop-offs and tight corners. This is really best for those with riding experience.
Riding from Arrowtown to Queenstown or Jacks Point to Queenstown would be an ideal lead in to this ride, being of similar distance, but less difficulty.
Pricing Structure:
Includes bike hire, shuttle transport and a driver to facilitate your day and take care of logistics.
Number of Riders
Cost Per Person Standard Bike
Cost Per Person With Electric Bike
1-6
By Enquiry Only…
6 +
$200
$250
Please note this ride will only run once a minimum of 6 people are booked on. If you are a group of 2, no worries, we will take your details and pencil you in. The trip be confirmed and will run once we have reached the minimum numbers.
Please email or call us to book!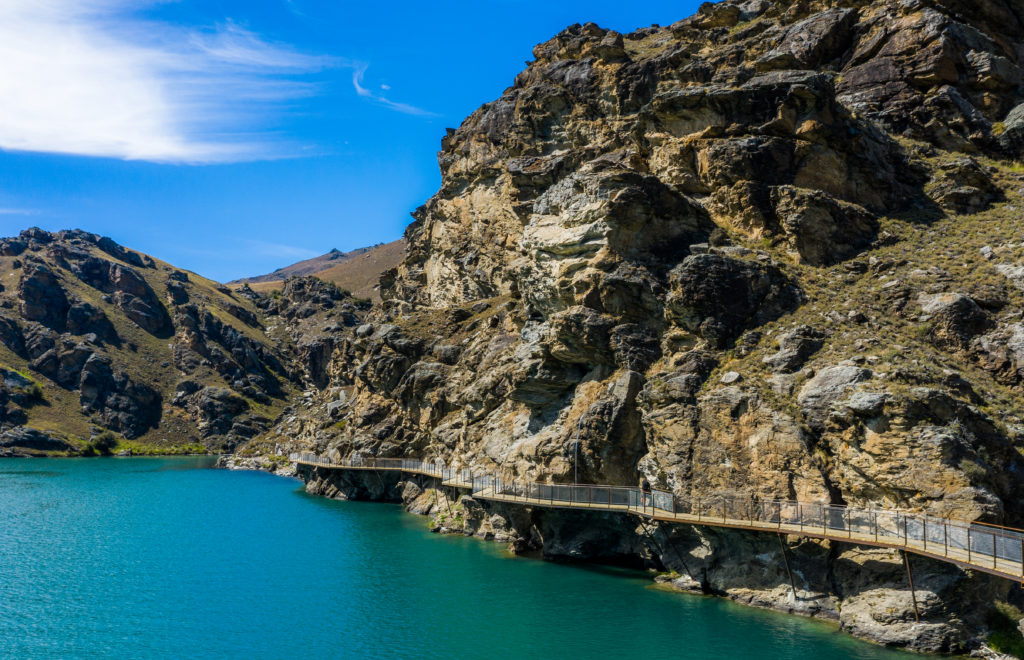 Thorough directions, a map and trail tips are given at the start of your adventure, along with driver and vehicle support at designated points throughout your 36km off road ride.
Guarantee the good times. Electric bikes are the recommended option on this ride it's only $50 more…
A Day On The Dunstan
8.30 AM: Transportation
Depart Queenstown
Sit back and enjoy the 1hr and 15 min drive through the beautiful Central Otago countryside
Chat to your local driver and get to know more about your day and the local landmarks
9.30 AM – 9.40 AM: Coffee Stop
Upon arrival in Clyde you will have time to visit a cafe of your choice. This is a chance to grab last minute supplies and fuel up for the ride ahead.
Once you are ready to ride your tour guide will brief you on bike safety, trail navigation and how the rest of your day will work
11.00 AM – 2.30 PM: Ride The Dunstan Trail
Set off on your bike and explore the beautiful Dunstan Trail!
Meet your driver 32km into your ride (just past Cornish Point). It is here that you can decide what you would like to do for the rest of the afternoon. More riding, or is it time for a wine?
Choose to ride into Bannockburn, or perhaps as far as Old Cromwell… or let your driver shuttle you to your desired finish location if you're already satisfied with you ride.
2.30 PM - 3.45 PM: Wine Tasting or time at the Pub
Enjoy a relaxed end to your riding adventure before your shuttle transport back to Queenstown.
3.45 PM: Shuttle Departure - Back To Queenstown
Your shuttle will depart from at 3.15 PM sharp.  There may be other groups joining you for this journey, so this is a fixed departure time.
---
WEAR
Comfortable athletic clothing, shoes, jacket and gloves.
INCLUDED

| | |
| --- | --- |
| Support Driver | Quality Mountain Bike |
| Helmet | Shuttle Service |
| Trail Map | |
| | |

NOT INCLUDED

A Guide Riding The Trail With You
Food and Beverages