Queenstown To Jack's Point
Spectacular Lakeside Riding
Ride Information
This ride package starts by collecting your bikes or E-bikes from our shop in the heart of Queenstown. We'll get your group set up with everything you'll need, including helmets and a map, and give some trail tips.
The route starts by following the shoreline of Lake Whakatipu out to Frankton. Then, looping back around to the Kelvin Peninsula, you'll be greeted by incredible views of snow-capped Cecil Peak, and even see a few art-sculptures. The trail then skirts around the edge of Jardine Park, before it turns southward as it first descends and then climbs back up to the finish at Jack's Point.
The first part of the ride is on a gentle, flowing trail (graded 1 or 2); while the later stages are more challenging (graded 2 or 3), with one decent climb. This is a great choice for groups of capable and fit riders.
We will collect you from the Jack's Point Club House at 2:30 pm for the return shuttle back to Queenstown.
Most groups take approximately 2 – 3 hours for the ride, with options to stop-off at a café or even a brewery en route.
Electric Bikes Are Recommended!
We are yet to hear anyone say "I wish I never upgraded to an electric bike", but we have certainly heard the opposite! Guarantee the good times, keep your group together and have a fun day out there. E-bikes are a game changer and make this ride so much more fun!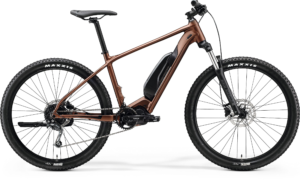 Total Distance: 24.63 km
Elevation Gain: 293 m
Elevation Loss: 266 m

Other Options
It's worth considering the Arrowtown To Queenstown, or Queenstown To Gibbston Valley ride packages, which can be booked for any number of riders.
If you're happy to ride out-and-back, we also offer simple bike hire from our shop.