Everything you need to know about riding this new bike trail
About The Dunstan Trail
Official Opening: 7th May 2021
Total Trail Distance: Clyde to Smith's Way is a total of 55 kms – see below for section riding distances
Trail Difficulty: Mix of grades 2 and 3 mountain biking trails
Ride Duration: Clyde to Cromwell (1 way) approx. ride time is 3 to 4 hours
Lake Dunstan is a man-made lake in Central Otago, which formed on the Clutha River / Mata-Au in 1992 when the Clyde Dam was completed. Construction of a new biking and walking trail along the true right of the lake started in May 2019, taking two years to build. This new trail is now open all year round connecting the towns of Cromwell in the north with Clyde on the southern end of the lake.
Riders can marvel at both the rugged beauty of the Central Otago landscape and the engineering skills of the trail builders while they ride. There are 330m of bolt-on-bridges across 7 different sites, cantilevered platforms, a suspension bridge, and some amazing mountain views!
This new trail connects Cromwell with the 3 existing Great Rides of the New Zealand Cycle Trail / Nga Haerenga in Clyde: the Otago Central Rail Trail, the Roxbrugh Gorge Trail and the Clutha Gold Trail.
How Difficult Is It To Ride?
Most sections are either Grades 2 or 3 mountain biking trails. The more difficult Grade 3 sections are highlighted blue on the map below. On these sections you can expect the trail to be narrower (approx. 1.5m), have steeper gradients, some tighter corners and unfenced drop-offs.
It's important to be realistic about your group's previous experiences, fitness levels and bike handling skills before you set out on the Lake Dunstan Trail. If you're not comfortable navigating fairly narrow trails with exposed drop-offs, with the potential for riders coming the other way, then this might not be the trail for you.
Please also note there is an isolated section of the trail, known as the Cromwell Gorge, where there is no alternative way out. If a bike mechanical issue or an accident occurs partway through this section, riders will need some degree of self-sufficiency as there could be a long wait before help arrives. At a minimum your group should have basic bike mechanical skills with the means and ability to replace a flat tyre and fix a snapped chain. It's also worth carrying a first aid kit and foil blanket in case an accident occurs.
How hilly is it?
There are two significant climbs on the trail, the first near Halfway Hut and the second at the Cairnmuir ladder, with the highest point being a little over 300m above sea level. A lot of riders would enjoy their Lake Dunstan Trail experience more on an E-bike, as they give you the confidence to tackle the hills with ease (don't forget to fully charge it first though!).

Similar Rides
The most comparable rides to this Lake Dunstan Trail are either our Jack's Point to Queenstown ride or the Sailor's Cutting section on the Alps 2 Ocean Trail.
If you're looking for a ride of a similar distance but an easier grade of trail, check out our Arrowtown to Queenstown ride.
Trail Sections
| | | | | |
| --- | --- | --- | --- | --- |
| From | Section Distance (kms) | To | Distance From Clyde (kms) | Grade of Trail |
| Clyde Heritage Precinct | 3.5 | Dustan Rowing Club | 3.5 | 2 |
| Dunstan Rowing Club | 8 | Halfway Hut | 11.5 | 2 – 3 |
| Halfway Hut | 4 | Hugo Suspension Bridge | 15.5 | 3 |
| Hugo Suspension Bridge | 4 | Cairnmur Gulley | 19.5 | 3 |
| Cairnmur Gulley | 12 | Bannockburn | 31.5 | 2 – 3 |
| Bannockburn | 7 | Cromwell Heritage Precinct | 38.5 | 2 |
| Cromwell Heritage Precinct | 16.5 | Smith's Way | 55 | 1 |
Please see the map below or follow this link to download a PDF copy: Lake Dunstan Trail Map.
Trail Logistics
Which direction should I ride?
The trail can be ridden in either direction, so the option is yours.
We usually recommend the Clyde to Cromwell direction, for a couple of reasons. Firstly, it gives you the option to finish at one of the wineries or the famous pub in the Bannockburn township near Cromwell. Secondly, by 'keeping left' it means that you're riding on the mountain's side of the trail (i.e. not the lake's side) and therefore less exposed to the unfenced drop-offs.
Navigation
The trail signage is excellent – you're not going to get lost!

Food and Water
There are no drinking water fountains to be found on the trail, so please carry a sufficient amount for your needs and to match the weather conditions.
We'd recommend carrying a few small bits of high-energy foods for your ride. No-one wants to have to deal with a "hangry" rider!
There are some nice cafes in both Clyde and Cromwell which you could pick up a bite to eat before or after your ride.
At the Cairnmur Gully (on the trail, midway between Clyde and Cromwell) some clever locals have used their kiwi-ingenuity to create Coffee Afloat. You can get a caffeine fix and a bite to eat while you ride.
Weather
Central Otago generally gets hot and dry conditions over the summer months; dry spells of a week or more are common. Over the winter months cold and dry conditions are the most common, with frequent morning frosts. There are relatively low amounts of rainfall all year round which make for excellent riding conditions. There are some exposed sections of trail which can be susceptible to strong winds.
As always you should come prepared for all weather conditions and pack accordingly. Over the winter months a warm pair of gloves and good jacket can make a much more enjoyable riding experience.
Other Things To Note
There is cell phone coverage across most of the trail. The Spark network works best, Vodafone has a few areas with limited reception.
There are no charging facilities along the trail so please ensure E-bikes are fully charged.
There are 5 public toilets between Clyde and Cromwell.
Getting There
The trail is in Central Otago, linking the historic towns of Cromwell on its northern end with Clyde on its southern. It has multiple access points; most places listed below have designated parking areas and public toilets.
To drive to Cromwell from Queenstown takes 50 mins, Clyde takes around 1 hour 10 mins.
From the North (Cromwell)



The trail can be accessed at Smith's Way, 16.5kms north of Cromwell Heritage Precinct, which has ample parking.
The next vehicle access point is at the McNulty Inlet, just a few kms north of Cromwell, near the Lake Dunstan Boat Club.
There is plenty of parking available at the Cromwell Heritage Precinct (Old Cromwell), near the confluence of the Kawarau and Clutha rivers. There are cafe options here for your pre/post ride caffeine fixes.
The final access points on the northern end of the trail are near the historic township of Bannockburn. Both Pearson Road and the Bannockburn Inlet have designated public car parks.
From the South (Clyde)



There is plenty of parking available in Clyde at the southern end of the trail. Clyde is usually our recommended starting point for riding the trail.
The trail can also be accessed near the Dunstan Rowing Club, a little way passed the Clyde Dam, again with plenty of parking available.
Please note there is a long section through the middle sections of the trail, known as the Cromwell Gorge, where there are no access points for vehicles.
Around The Basin and the Lake Dunstan Trail
At Around The Basin, we have been getting riders onto the Lake Dunstan Trail since it first opened. In fact we love it so much that we had our staff Christmas party there!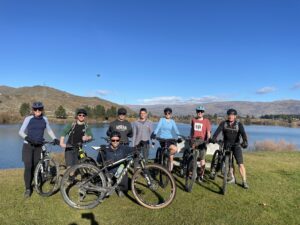 While we are based in Queenstown and specialise in rides on the Queenstown Trail network, we can help with logistics, planning and bike shuttles for your Lake Dunstan experience.
If you have the means to shuttle yourselves with bikes, then you can simply hire hardtail bikes or E-bikes from us and you're all set to ride. We have a large fleet of rental bikes that we keep in great working order – perfecting for riding the Lake Dunstan Trail. Simply flick us an email with which date you'd like to ride the trail, how many bikes you'd need and the heights of each rider, and we'll sort the rest: [email protected].
If you have a group of mates, and 8 or more are keen to ride, check out the Day On The Dunstan ride. This package includes bike/E-bike hire and the shuttle transport to and from Queenstown.
Future Trail Expansion
In the not too distant future, the Lake Dustan Trail is going to extend through the Kawarau Gorge Trail at Bannockburn to the existing trail in Gibbston Valley and the Queenstown Trail network that we operate on everyday. You will be able to ride from central Queenstown all the way to Clyde (and beyond!) all on purpose built bike trails!