FAQs and Pro Tips
What is the Queenstown Trail like?
The Queenstown Trail is a 130 kms network of mountain biking and walking trails around the Wakatipu Basin.
It connects some of the regions premier destinations; particularly Queenstown with Arrowtown and the Gibbston wine region.
On the trail you can expect to see stunning river gorges, dramatic alpine scenery, historic gold-mining relics, suspension bridges, and crystal clear lakes.
Come and see for yourself why the Queenstown Trail is New Zealand's most popular Great Ride – Ngā Haerenga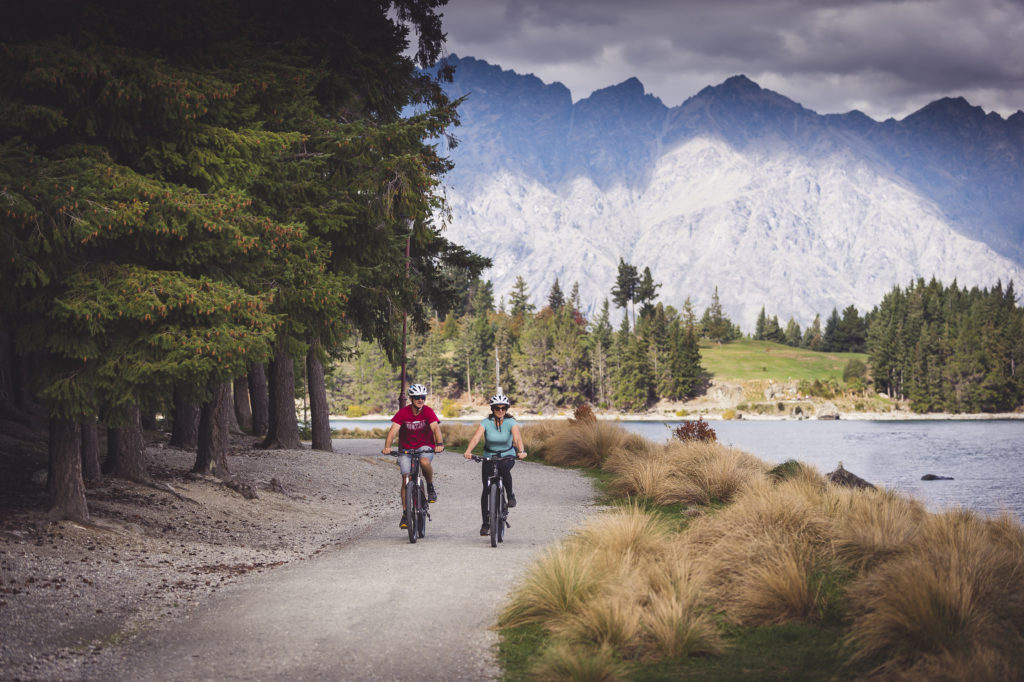 How difficult is the trail to ride?
The Queenstown Trail is easy mountain biking; most of the 130kms network is grade 2 or 3 (small sections are grade 4).
By easy, we mean mostly smooth, predictable, and very well-maintained trail. Its surface is made of gravel making it excellent for riding any time of year. Most sections are wide enough for riders to pass side-by-side (2 metres +).
There is a combination of flat and hilly terrain. Though most of the trail is undulating, some of the hills are quite steep but not too long.
If you're unfamiliar with mountain biking or concerned about the hills, we recommend upgrading to an Electric-bike. These pedal-assisted bikes take the sting out of any hill and guarantees you to have an awesome riding experience!
What happens if there's bad weather on the day?
We generally make a weather call on the day, as often it turns out not as bad as the forecast suggests.
If you are uncertain in the morning, give us a call around 9:15am and we will discuss options – generally we firstly try to re-schedule and if that isn't possible we do refund.
Can you still ride over winter?
Yes!
Because the bike trail is a gravel surface it's excellent for riding all year round. And we offer rides everyday of the year (apart from Christmas Day).
A typical winters day in Queenstown is fine and fresh, with awesome views of snow capped mountains. Pack a good pair of gloves and warm jacket and you'll be good to go!
What if I can't make it because I'm isolating due to Covid-19?
We understand that in these unpredictable times that making future plans is a challenge. Our cancellation policy regarding Covid-19 aims to give you the confidence to book a ride with us.
If you're unable to make it to Queenstown due to Covid related isolation or travel restrictions, we will first aim to reschedule your ride to another date at no additional cost. If that's not an option, we will refund the cost of your ride (less a 5% transaction fee imposed on us by the bank) if we are given at least 24 hours notice.
Will I be riding on busy roads with cars?
No. The Queenstown Trail is 130 kms of mountain biking and walking trails. Your ride will mostly be on these trails and away from built up areas.
The few short sections that are on sealed roads are all quiet, rural roads with very low volumes of traffic.
What are the advantages of an E-bike?
Electric-bikes enable you to ride further, faster, and with less effort than a regular mountain bike.
These pedal-assisted bikes help you along with 3 different power settings, taking the sting out of the hilly sections of trail.
Our team will give a full explanation about how to operate these Electric-bikes efficiently to get the most out of your ride.
Electric-bike upgrades are available on all of our rides and tours.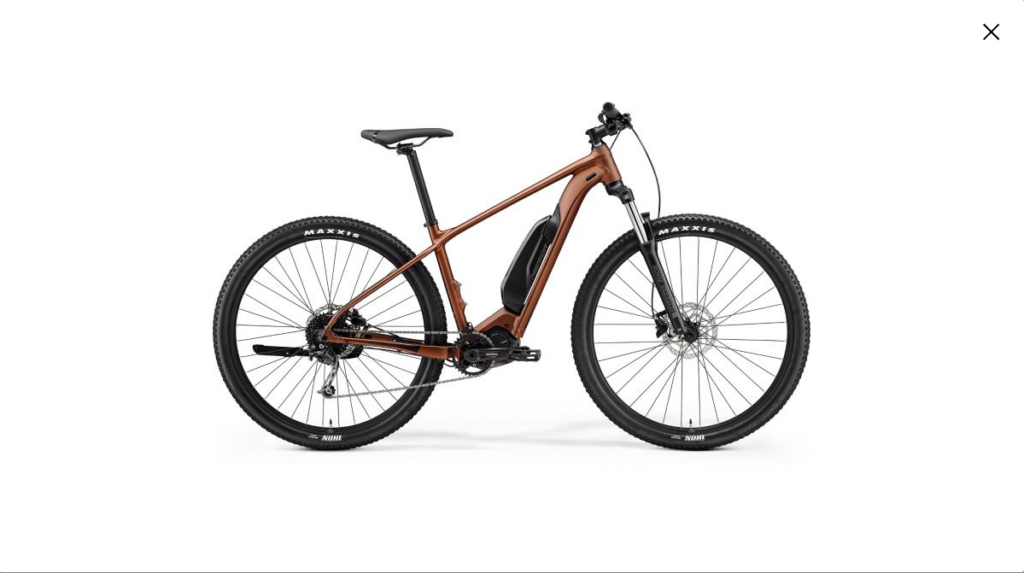 Which of your self-guided rides or bike tours are best suited for my group?
We've designed rides suitable for all ages and riding abilities; from less experienced riders keen for a shorter, flatter ride, to those who want a challenging day in the saddle.
Our self-guided rides (such as Bike The Wineries, Arrowtown to Gibbston, or Arrowtown to Queenstown) are designed for independent riders. They allow you to explore the best parts of the Queenstown Trail, with bike hire and transport included.

We also offer driver and vehicle supported bike tours (such as the half day Bike The Bridges tour or the full day The Basin Explorer tour), guaranteeing you a carefree biking experience.

Follow these links for full details about what you can expect from each.
If you're still unsure, flick us an email (bookings@aroundthebasin.co.nz) or call us (027 952 5801) to discuss options.
Do you have options for kids to ride?
Yes – we regularly have families with young children out riding with us!
For the kids we have 16″, 20″, or 24″ Mountain Bikes available. For infants we have Trailers or Half-Bikes/Tag-Alongs. We highly recommend the combo of a Trailer being towed by an E-Bike (pictured). They're stable and safe, and can fit one infant (<40kg) or two small infants (<20kg).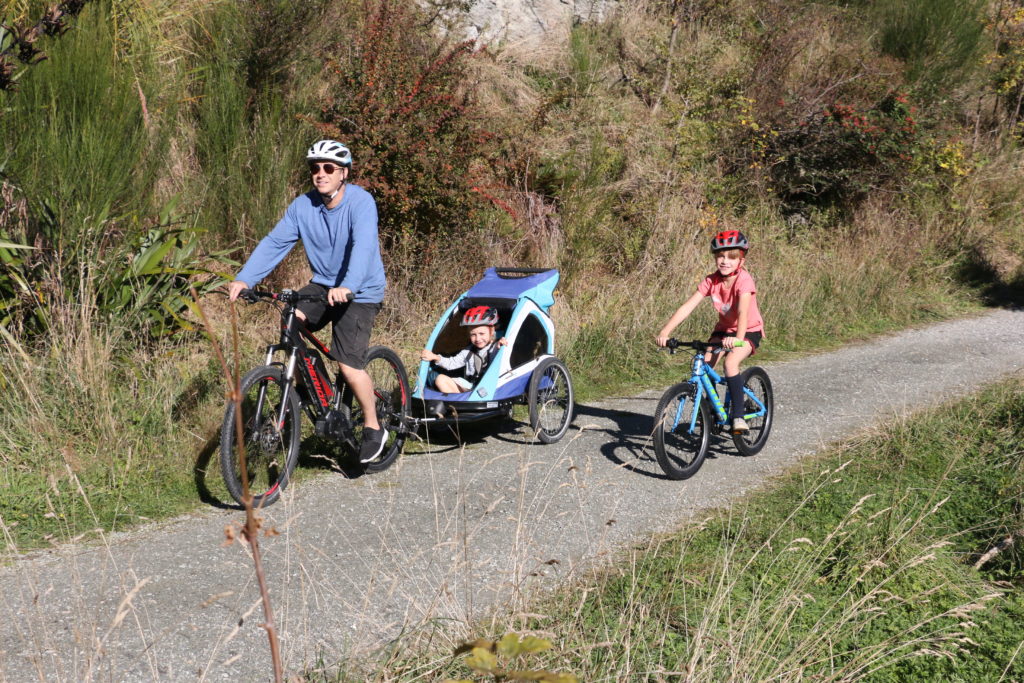 The Arrowtown to Gibbston self-guided ride is an excellent option for families. It's around 15kms of amazing mountain biking scenery and an achievable adventure for children.
Another option is the Beach To Bay. This is our easiest self-guided ride and departs twice each day. It includes a short shuttle and your family can ride back to our shop at your own pace.
Where is Around The Basin's shop located?
Where is the best place to park in central Queenstown?
Parking in Queenstown can be very difficult. There is currently (Winter 2022) a large infrastructure project affecting the whole of Queenstown CBD. They're placing stormwater pipes underneath most central streets; lots of traffic cones everywhere and reduced parking availability.  
There is paid all day parking on Man Street and Boundary Street in central Queenstown (both are a 5 mins walk to our shop).
There is free all day parking on Park Street and inside the Queenstown Gardens (both are a 10 mins walk). There are also a limited amount of spots on Robins Road and Lake Esplanade (both a 10-15 mins walk).
Please note there is no all day parking on either Duke Street (location of our shop) or on Shotover Street.
Please plan to check-in to our shop (9 Duke Street) at the time stated when you booked, as our shuttles will depart on time.
"I'm not sure if I've booked the right sized bike"
At the time of booking we usually ask for each of the rider's heights to allocate the correct sized bike frames. We don't want a team of basketball players riding on XS bikes!
On the day you will be fitted to your bike by our experienced team; the bikes all have adjustable seat posts. We always carry spare bikes as well, so there's a very good chance we've got you covered!
Which of the wineries in Gibbston would you recommend visiting?
There are 8 wineries, 2 breweries, and many place to eat in Gibbston, each with their own unique features. On the day our team will give personal recommendations suited to your group to enjoy this world-class food and wine region.
Follow the link below for contact details, website links, and a short description of each of the Gibbston wineries:
aroundthebasin.co.nz/eat-drink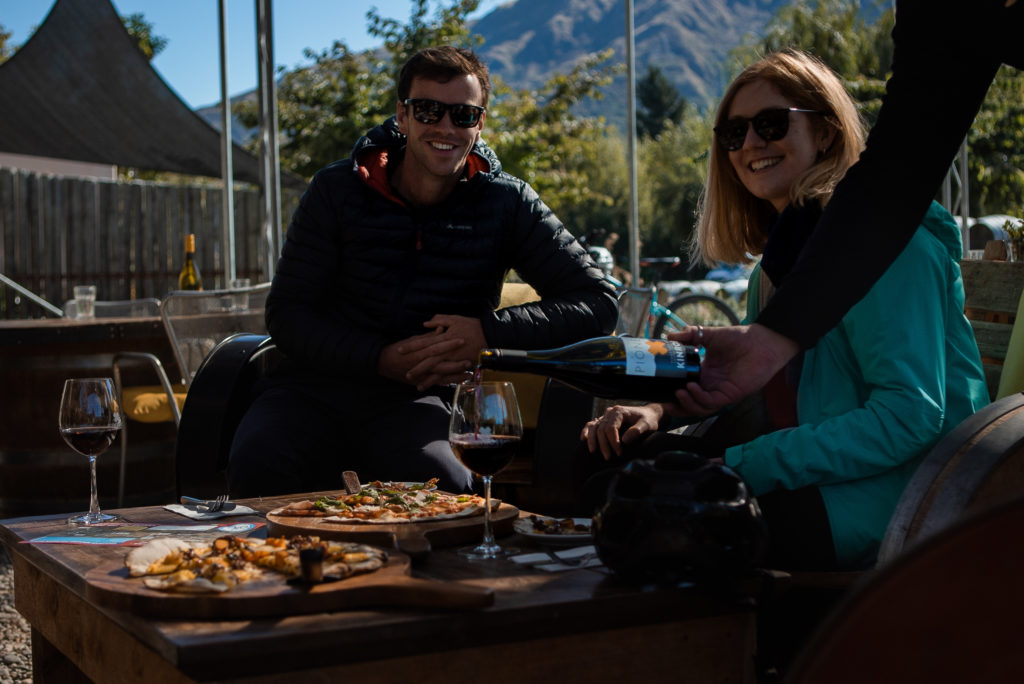 Can you accommodate for large groups?
Absolutely!
We regularly have large groups ride with us for work conferences, birthday parties, family trips, stag/hen do's, etc.
Flick us an email (bookings@aroundthebasin.co.nz) and we can help you with the logistics of planning your ride.
If you're planning to visit the wineries in Gibbston (groups of 6 people or more), you'll need to phone ahead as some of the smaller wineries need to be notified in advance.
Do you offer shuttles to other trails (i.e. the Lake Dunstan Trail)?
Yes! See here for more details.
What should I bring for the ride?
Comfortable, athletic clothing

A lightweight jacket

Water bottle (the bikes have bottle cages)

Sunglasses

A small backpack per group (you decide who will be the pack-mule!)
We provide the bike helmets and some sunscreen.
In winter a good jacket and warm pair of gloves are recommended.
How will I navigate the trail?
We have produced an excellent map of the trail to help you get the most out of your ride. On the day our team will give a detailed explanation of the trail, with a few local insights and point out some hidden gems.
The trail is also signposted very well, with colour-coded arrows and distance markers along the trail. Only a real numpty would get lost!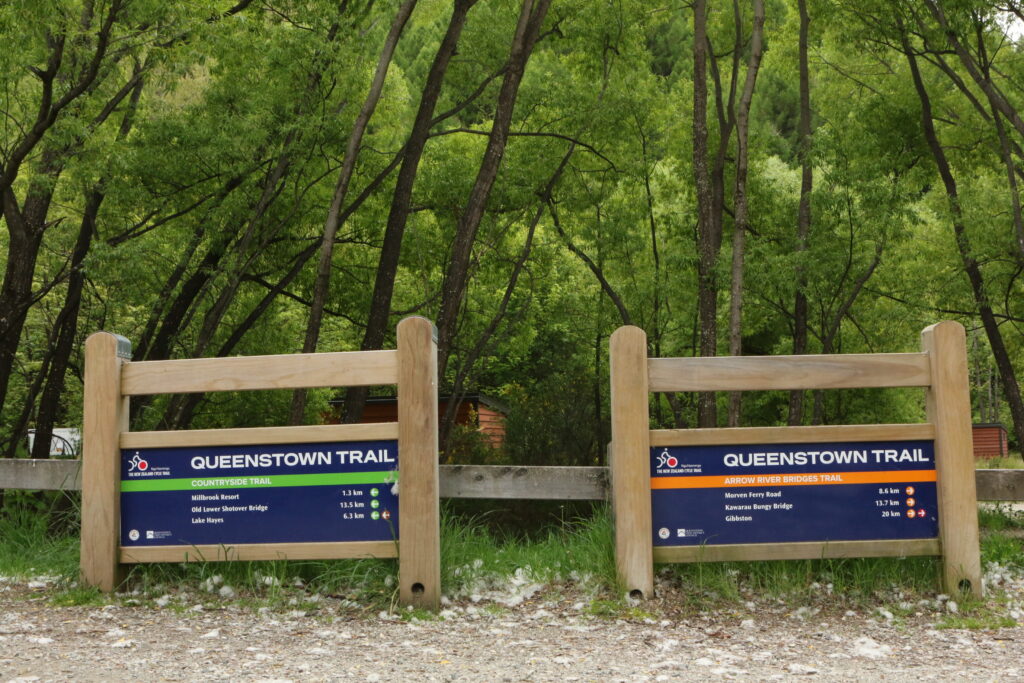 How can I give feedback about my ride?
Let us know the high and lows of your riding experience.
You can leave us a review:
or flick us an email on bookings@aroundthebasin.co.nz.