Bike The Wineries
3/4 Day

Self Guided Ride, Queenstown, NZ

See bridges, Bungy, wineries, a cheesery, a tavern and a brewery… ohh yeah!
A relaxed start at 10.30 am. 
We'll get you sorted with everything before you ride.
Taste as many wines as you like. We're driving.
We'll pick you up from your winery of choice.
And pick up any wine you buy!
Electric bikes are the bees knees, we recommend the upgrade.
Ride Information
This 3/4 Day Self-Guided Ride package begins with a scenic shuttle transfer from Queenstown to the Arrow Junction. Here we cover mountain bike fitting, navigation, bike safety and very importantly; winery information. Get straight into your pre-wine warm up! Seven very scenic km's along the beautiful Arrow and Kawarau Rivers to the Kawarau Suspension Bridge – home of the world famous Bungy jump.
From Bungy spend the afternoon biking at your leisure along the Gibbston River Trail using our informative winery map to visit as many of the 7+ wineries linked throughout this easy riding trail. Enjoy a relaxed lunch en-route or picnic at one of the many Wineries. If you decide to ride all the way to the last winery you will cover a total of 16.5km.
Shuttle pick you up is at 4.30 pm from the Gibbston Tavern or any other pre-arranged point in the valley.  Vehicle transfer back to Queenstown takes about 30 min.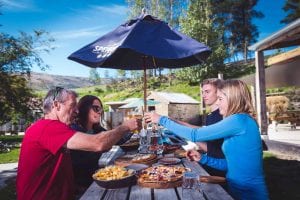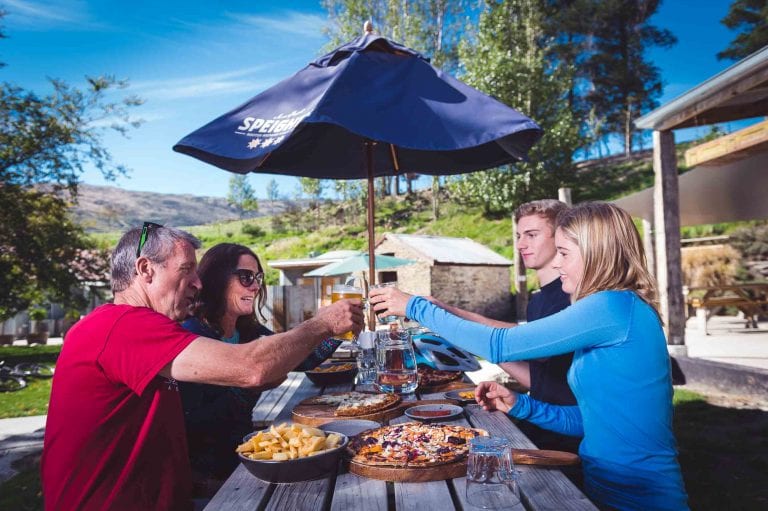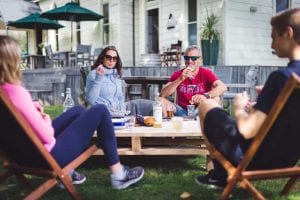 For less riding and a later start time try our Bike The Wineries Half Day.
If you want to see Arrowtown, ride a bit further, experience beautiful bridges and have more winery time then take a look at our Bike The Wineries Full Day.
Please note: Tastings are not included in the price of this package, but average cost is around $10 per winery (some are free!).
Summer Itinerary (1st September – 30th April)
10.30 AM: Transportation
Shuttle from our shop (9 Duke Street in Queenstown) out to White Chapel Road.
10.55 AM – 11.05 PM: Briefing
Upon arrival at the trail, your driver will brief you on bike safety, trail navigation, the wineries and pick up information
11.05 PM – 4.30 PM : Ride The Trail and Bike The Wineries
Set off on your bike and explore 5km of the beautiful Arrow River Trail before reaching the Gibbston Wine Valley. Explore the wineries at your leisure, tasting wine and eating cheese, visiting your choice of the attractions in the valley; 7 wineries, a cheesery, a tavern and a micro-brewery
4.30 PM: Shuttle Departure - Back To Queenstown
Your shuttle will depart from Gibbston at 4.30PM sharp to be back in Queenstown by approximately 5.00 PM
Please note: Tastings are not included in the price of this package, but the average cost is around $15 per winery (some are free!).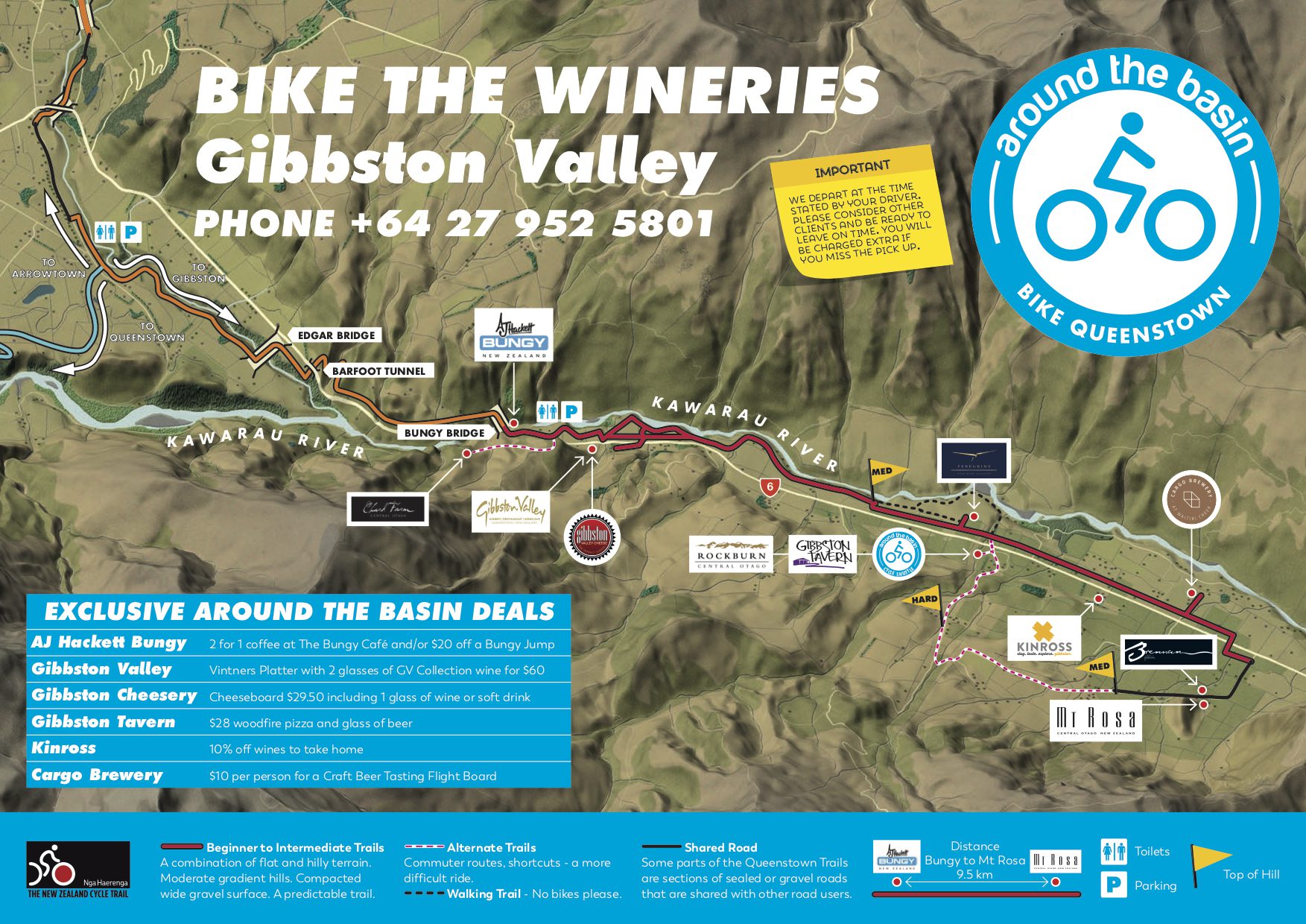 Venues on offer in the Gibbston Valley:

Wineries, beer and cheese.
Chard Farm

A stunning setting down a historic gravel road. The effort made to visit Chard Farm is always worthwhile.

Kinross Wines

A stunning setting with a lovely outdoor area to enjoy. Great food and wine are available here.

Gibbston Valley Winery

The most well known winery in the valley. Enjoy their cheesery or visit the cellar door for a tasting. Beautiful outdoor area to be enjoyed.

Cargo Brewery

Based in an old church, backing onto a large grass area stacked with games, Cargo is a great spot to hang out. It is a real highlight for both the wine and the beer drinker.

Peregrine Winery

Elegant and professional. Peregrine is a place for tastings only. They don't serve food or wine by the glass here.

Mt Rosa

Full of personality, Mt Rosa is located at the end of the valley and is certainly worth the effort to visit. Tastings here are extensive, so allow approximately 40min.

Brennan Wines

A great place to visit, Brennan is located at the end of the valley. While you're here, have a go at petanque.

Gibbston Tavern

Our standard pick up location for a reason. The tavern is full of character and serves delicious wood fire pizza. A great place to relax.

Rockburn

The Rockburn Cellar Door offers relaxed tastings of their award winning wines in a unique setting, at the iconic Gibbston Tavern. A pure expression of Central Otago in your glass.